I have been sourcing quotes that relate to each building i will be including in mypublication. These quotes are from critics, artists, designers and the architects and will be included to help reassure my own text and sourced material...
John Lautner - The Big Lenowski / Diamonds Are Forever
Building: Sheats Goldstein Residence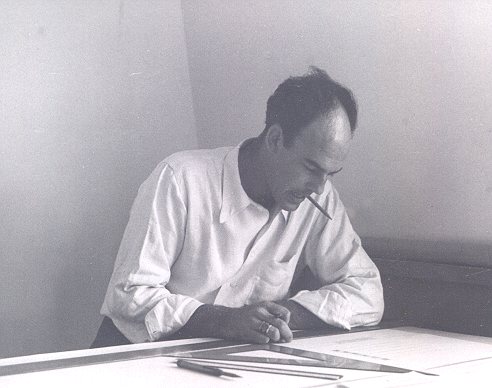 I have taken a couple of quotes from this video which is the trailer for the documentary 'INFINITE SPACE' which is about architect John Lautner. The first is from a co-worker of Lautner and the second is from himself.
"John Lautner was a very tall person and his hands we're very large, and when he drew he held a pencil and made these very decisive marks on paper. He did beautiful drawings." (Co-Worker of Lautner)
"My whole life is devoted to architecture, and thats what i live on." John Lautner.
this video shows some of Lautners houses in film.
Pictures inside the house ...
http://la.curbed.com/archives/2011/07/inside_john_lautners_dangerous_sheatsgoldstein_house.php
The docents at the Sheats-Goldstein House told us
"This is probably the most dangerous house you'll ever be in."
The walkway across the water feature is made of slippery glass and there aren't any rails around the patio or along the outdoor hallway, and yes, we'd hesitate before getting drunk there, but oh boy is it worth the risk. The house has had two lives now--it was built in
1963
for a doctor and artist couple (the Sheats) and their five kids, who moved out a couple of years after completion. (They had wanted the pool area to have a "camping under the stars" feel, so Lautner stuck
Old Fashioned glasses
down into holes in the concrete ceiling.) In 1972,
mysterious multi-millionaire James Goldstein
bought the house (no one's sure how he made his fortune, but you might recognize as the hat-wearing fellow who sits courtside at Lakers and lots of other NBA games); in
1980
, he started working with Lautner on a major renovation.
The Sheats-Goldstein's structure is almost all original, but materials, built-ins, motorized elements (skylights and walls), glazing, and more are new since the Sheats' time, according to info from the Lautner Foundation. Lautner combined the lower-level study, studio, and master bedroom into one large master divided by a concrete wall and furnished with concrete furniture (and an invisible sink). The master also has a built-in scale and windows that look into the pool (the Sheats had those put in so mom could watch the kids--see, it's totally safe).
Since Lautner's death in 1994, Goldstein has worked with Duncan Nicholson, who spent time in Lautner's office. You can see in the photos that Goldstein is now adding a party/office annex with a rooftop tennis court.
Sheats Goldstein Residence, is a house designed and built between 1961 and 1963 by American architect John Lautner in Beverly Crest, Los Angeles, California, just a short distance from theBeverly Hills border. The building was conceived from the inside out and built into the sandstone ledge of the hillside; a cave-like dwelling that opens to embrace nature and view. The house is an example of American Organic Architecture that derives its form as an extension of the natural environment and of the individual to whom it was built. Typical of Lautner's work, the project was approached from an idea and a unique structure was derived that solved the challenges of the site.
Richard Neutra - L.A. Confidential
Interesting video on Richard Neutra and Modernism...
"A building can be designed to satisfy by the month with the regularity of the provider. Or it can give satisfaction in a very different way, by the moment, the fraction of a second, with the thrill of a lover"
- Richard Neutra
Frank LLoyd Wright - North By Northwest
"A Doctor can bury his mistakes, but an Architect can only advise his clients to plant vines"
- Frank Lloyd Wright
James Speyer/David Haid - Ferris Bueller's Day Off
Charles Deaton - Sleeper
Interesting video about Deaton's view on angular architecture and views about life and people. He has a very different appearance about how architecture should be. He thinks it should be a sculpture you can live and work inside.
Jeff Kovel - Twilight
ella: "It's so light and open you know?" Edward: "What did you expect? Coffins and dungeons and moats?" Bella: "No, not the moats."
This is dialogue from the movie. I was thinking that i could use it in my publication to emphasise the dramatic effect of the architecture to this particular film and help show how the building brings a contemporary twist to an old myth .